WELCOME TO EUREKA ELEMENTARY!
7550 N. Welling Road
St Johns MI 48879
989.227.4900
989.227.4999 fax
Anne-Marie Potter, Principal; 989.227.4901 pottera@sjredwings.org
Mistie McKane, Secretary; 989.227.4902 mckanem@sjredwings.org
As you are aware, we have had an unusual amount of inclement weather days. Unfortunately, all of these days have occurred during the 2nd trimester of the school year. Therefore, we will be extending the second trimester one week to end on Friday, March 15.
Thursday and Friday (March 7 & 8) - Full day of school for all levels
Thursday and Friday (March 14 & 15) - 1:35 PM Early release for elementary

As of February 15, 2019
We are at thirteen days of school cancelled due to inclement weather for the 2018-19 school year. As it stands today, the school year would end on Thursday, June 13, 2019. However, every day school is cancelled after today will require an additional day to be added beyond June 13.
Spring break will NOT be altered!

IMPORTANT INFORMATION & DATES
SCHOOL HOURS: 9:10 A.M. -- 4:05 P.M.
UPCOMING EVENTS:
April 19 - Student School Day
April 24 - Teacher Conferences @ 5:00 pm
April 25 - Lugnuts Ticket Deadline Online Link
April 26 - Early Release @ 12:30
April 27 - PTO Laser Tag @ Eureka; 12:30-3:00 - Mother/son event (form)
May 3rd - Lugnuts Family Night @ 7:05 PM
May 8 - PTO Meeting in Library @ 6:30 PM
May 10 - Early Release @ 12:30
May 10 & 11 - Relay for Life
May 17 - Disney/Pixar Character Day
May 29 - Music Program K thru 2nd grades @ 6:30 p.m.
May 30 - Music Program 3 thru 5th grades @ 6:30 p.m.
June 13 - Tentative Last Day of School (TBD)

April Specials Calendar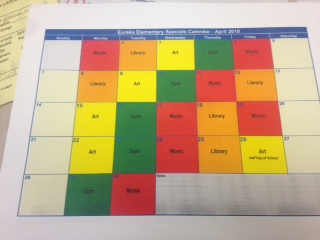 -- Please update or set up your SJPS Parent Portal information by using the link at the bottom of this page
-- Questions?: Feel free to email Mrs. Potter using the link above
USEFUL LINKS:
Text Message Feature -- Opt Out
Community Connections Link
FILES & FOLDERS
PARENT PORTAL:
Our Parent Portal allows parents to manage lunch accounts and quickly access student information. To create a Parent Portal account or update information in the Parent Portal, just click on the link below. For assistance, send an email to ichelpdesk@sjredwings.org
Parent Portal LINK