WELCOME TO EUREKA ELEMENTARY!
7550 N. Welling Road
St Johns MI 48879
989.227.4900
989.227.4999 fax

Anne-Marie Potter, Principal; 989.227.4901 pottera@sjredwings.org
Mistie McKane, Secretary; 989.227.4902 mckanem@sjredwings.org
IMPORTANT INFORMATION & DATES
SCHOOL HOURS: 9:10 A.M. -- 4:05 P.M.
November 1st -- Picture Retakes in A.M. order form
If you would like to pre pay for your school portrait package go to https://canfieldjenkins.orderschoolpix.com. Select your school from the drop down menu, your password is PREPAY. Choose what package you would like, check out, and print receipt. Please send receipt with your student on picture day.

October 17 & 18 PARENT TEACHER CONFERENCES 5:00-7:30 pm Schedule
October 19th -- NO School
October 26th -- Bible Release @ 2:40 pm
November 1st -- Picture Retakes in a.m.
November 2nd -- Early Release 12:30 pm (snack provided)
Novemger 2nd -- Crazy Sock Day
November 9th -- Bible Release @ 2:40 pm
November 14th -- PTO Meeting; Library @ 6:30-7:30 pm
November 20th -- Early Release 1:35 pm (Brown Bag or lunch from home)
November 21st -- Early Release 1:35 pm (Brown Bag or lunch from home)
November 22 & 23rd -- Thanksgiving Break
October Specials Calendar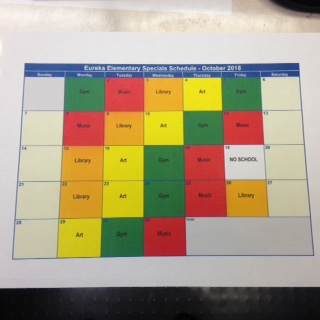 -- Please update or set up your SJPS Parent Portal information by using the link at the bottom of this page
-- Questions?: Feel free to email Mrs. Potter using the link above
USEFUL LINKS:
Text Message Feature -- Opt Out
Community Connections Link
FILES & FOLDERS
PARENT PORTAL:
Our Parent Portal allows parents to manage lunch accounts and quickly access student information. To create a Parent Portal account or update information in the Parent Portal, just click on the link below. For assistance, send an email to ichelpdesk@sjredwings.org
Parent Portal LINK