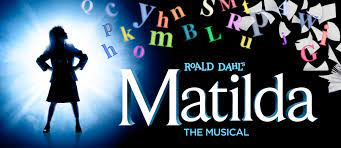 The St. Johns High School Theatre Department is proud to present Roald Dahl's Matilda, a musical based on the 1988 children's novel by the same name. The story centers on Matilda, a precocious girl with the gift of telekinesis, who loves reading, overcomes obstacles caused by her family and school, and helps her teacher to reclaim her life.
Matilda the Musical has received widespread critical acclaim and box-office popularity, winning seven 2012 Olivier Awards, including Best New Musical—at the time, the most such awards ever won by a single show. The show won five Tony Awards in 2013.
Our "Revolting Children" will bring this story to life on the SJHS stage with performances on Friday, November 11 at 7 p.m., Saturday, November 12 at 7 p.m., and Sunday, November 13 at 2 p.m. Tickets will be available for purchase at sjdrama.ludus.com beginning Monday, October 17. Matilda is under the direction of Mr. Barry Palmer, Mr. Josh Heethuis, Mr. Jarod Moyer, Mrs. Dawn Flynn, Mr. Luke Smith and our incredible choreographer Ms. Madison Shutes.

Important Files for our Matilda Cast and Crew:
Text Reminder Instructions
Cast Audition and Crew Information
Cast and Crew List
Rehearsal Calendar
Cast and Crew Contract - This link is posted as a reference. We are asking students to complete this as an "assignment" in Google Classroom.
Fees Form - all fees will be collected electronically this year
Parent Volunteer Form - Like the Contract, this is also an "assignment" in Google Classroom.
DVD Information