Welcome to Riley Elementary!
CONGRATULATIONS ON A STRONG FINISH TO AN OUT OF THE ORDINARY SCHOOL YEAR!
HAVE AN AMAZING SUMMER! THE RILEY GOOD-BYE FOR SUMMER VIDEO IS HERE!
IMPORTANT INFORMATION
We are proud to continue our FREE FOOD FOR KIDS through the summer!
Individuals will be able to pick up meals the High School and Eureka Elementary. Children do not need to be present. Starting JULY 1st, families may only pick for children in their own family. This change is required by the USDA and MDE.
PICK UP TIMES/LOCATIONS:
HIGH SCHOOL M,W,F - 9:30-11:30
EUREKA M,W,F - 9:30-10:30

2020/21 Enrollment Needs
Please refer to Enrollment Tab under Quicklinks to find any information needed regarding Fall enrollment. If you need to enroll your student, print out all forms and contact the SJPS District office at 989-227-4050 with any questions and/or to turn in your paperwork.
Fall 2020/21 classroom and supply Information
1st Grade- Information will be sent in August
Upcoming Important Dates
8/31 - 1st day of School
9/4 - No School for Staff/Students
9/7 - No School, Labor Day
9/14 - 1st day for Preschool Students


Lunch Deposit INFO
Any unused money will be rolled over to next year.
To Pay ONLINE follow the Food Service tab under Quicklinks. There is a SERVICE FEE of $2.65 for Credit Card, and $1.00 for an E-Check. You will need to set up an account with LunchApp.com
You may send in Cash or Check to School. To ensure proper credit, please make sure to label your child's name and class room teacher with all lunch money turned in.
Thank you.
Parking Lot Drop off and Pick Up. Please enter the parking lot off of Lowell Rd. and follow the map. Students may be dropped off using the drop off lane. Students may not walk across the parking lot.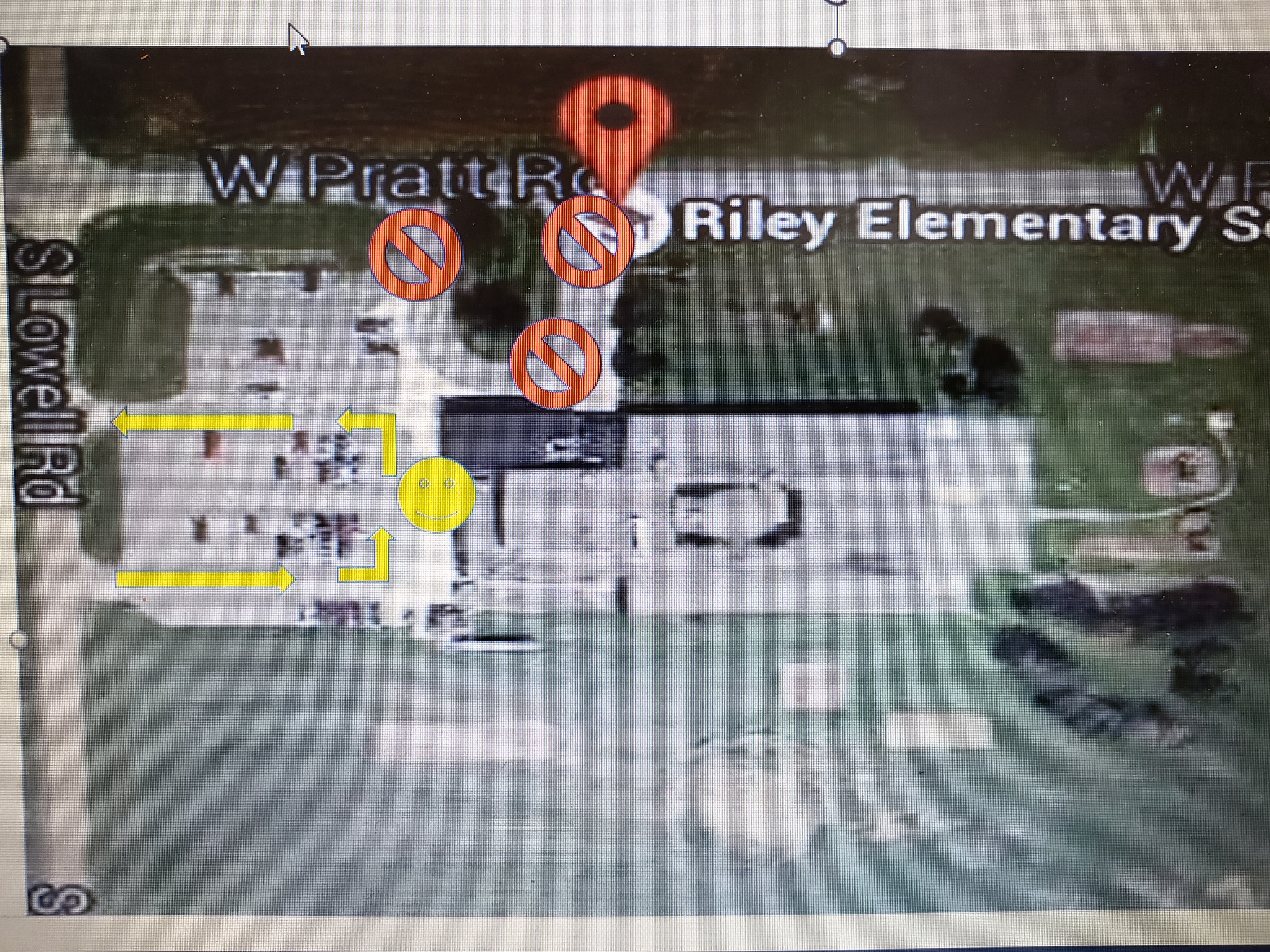 _________________________________________________________
As the cold and flu season is approaching, it is so important to remind our kiddos to wash their hands. We have also installed hand sanitizing stations in the cafeteria to help assist in clean hands before eating.
Guideline for Keeping Sick Kids Home, Mid Michigan Health Department
Letter from the Mid-Michigan Health Department
Also, our School Policy is that any child with a FEVER, must be FEVER FREE WITHOUT MEDICINE for 24 HOURS before they can return to school. If your child is sick, please keep them home.
___________________________________________________________________________________
___________________________________________________________________________________
END OF DAY PHONE CALLS: Please call the office by 3:45 if you have changes in end of day pick up or bus information.
***If your child needs a temporary (1 day) bus change for their ride home, you AND the receiving parent (where the child is temporarily going) both MUST either call or send a note to the office. A Bus Pass can NOT be granted without notes or calls from both of you. Thank you for following these necessary procedures.***

Recess
Recess in the winter can be a lot of fun, especially when students are dressed appropriately! Please make sure your child has a warm coat, snow pants, boots, mittens or gloves. We do have a limited supply of hats and gloves, but we do not provide snow pants or boots.
Speaking of recess, we adhere to the following district-wide guidelines:
*If the temperature or wind chill (temperature/wind chill = "feels like") is 0 degrees or below, students will be inside for recess.
*Students may only be excused from outdoor recess with a signed doctor's note. If your child is well enough to come to school, he/she is well enough to go to recess.



___________________________________________________________________________________
Preschool Program
If your child is not old enough for Kindergarten, St. Johns Public Schools also offer a Preschool program. Please click on the following link if you are more interested in learning about this program and let us know if you have any questions. St. Johns Preschool Program
_____________________________________________________________________________________
Parent Volunteering
At Riley we welcome parental volunteers. For safety and security of our students and the educational environment, we would like to remind all volunteers of the following guidelines
Parent Volunteer Guidelines
Volunteers - are anyone not employed by St. Johns Public Schools serving in capacity to assist within the school including, but not limited to, parents, grandparents, PTO members, guardians, etc.
-Parent Volunteers must be at the request of a teacher and must be supervised by the teacher while in the building. Volunteers may be allowed up to 1.5 hours of time per day, unless otherwise requested by the teacher to the building administrator and approved by the administrator.
-Volunteers must be made aware of FERPA and confidentiality guidelines and agree to honor the law. (This will be done by either the classroom teacher or building administrator.)
-All volunteers must check-in at the office and sign-in and get their badge to help identify them as a volunteer.
-Volunteers are only allowed during normal school operating hours (9am-4pm), unless specifically serving in a scheduled before/after school activity approved by the administrator.
-Volunteers will only be working in the classroom with which they have volunteered, and if working in an unsupervised one-on-one capacity with students they must pass a mandatory background check.
-Volunteers may not bring other people with them to assist that were not requested by the teacher. (This includes younger children and siblings.)
Files & Folders