2023 Nominee - Jayci Simon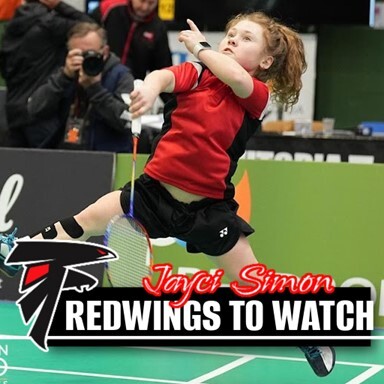 Jayci Simon - Class of 2023
Redwing Jayci Simon has been ranked as high as 6th in the world in women's Para Badminton. She's on her way back to the top, with the goal of representing Team USA at the 2024 Paris Paralympic Games in sight.
Jayci, who has a genetic condition often referred to as "dwarfism", has always been involved in sports. A few years ago, during a LPA (Little People of America) Conference, she was introduced to a new sport, one that she would fall in love with; the sport of badminton.
The USA Paralympic team manager happened to be at this conference and he saw something in Jayci and her athletic ability. He went on to recruit her for USA badminton and in 2016 she started going to clinics in Chicago. She also started playing in able-bodied tournaments, where she really fell in love with the sport.
In 2019, she competed in her first Para Badminton tournament in Peru. The youngest competitor in her classification, she medaled in all three events (singles, women's doubles and mixed doubles). The tournament opened her eyes to the size of the organization along with the level of elite athletes that competed. It also gave her confidence that she could compete at that level and set her towards the goal of competing in the Paralympic Games. The worldwide tournaments she has competed at so far include Canada, Turkey, Switzerland, Columbia and Spain.
Some of her favorite achievements include:
- Winning against 10x world champion and third place in the world from England
- Qualifying and being invited to back to back world championships (held every two years)
- Medaling in all three events at her first ever tournament
THE PARALYMPIC GAMES OF PARIS 2024

Her goal is to qualify for the 2024 Paralympic games in Paris, France. To qualify, Jayci must be ranked in the top 6 for mixed doubles, or top 12 individually. She is currently ranked #16 by Badminton World Federation and has been as high as 6th. During Covid, she was not able to travel as much as some other athletes and that hurt her points total. Without much funding from Team USA, there is pressure to continue to do well at each tournament and to build her points and ranking. In contrast, the 3rd ranked athlete from England she recently defeated is considered a professional athlete in England. She and other paralympic athletes are nationally funded and able to compete and travel as their profession.
Jayci and her mixed doubles partner, Miles Krajewksi are currently ranked #13 in the world. A top 6 mixed doubles ranking would not only qualify them as a team, but would automatically qualify both of them individually as well. The team has set this as their goal with the qualification period ending on March 31st, 2024.
Next up for Jayci is the Brazil Para Badminton International 2023 in April. The Para Badminton Calendar is set with upcoming tournaments in Thailand, Canada, England and Chile. If you'd like to support her fundraising efforts or learn more about Jayci's Journey, visit her website at jaycisjourney.com.
When she's not playing badminton, Jayci enjoys playing recreational sports, hanging out with family and friends and being outdoors. She loves boating, kayaking, hiking, camping and playing cards. She's also involved in several clubs as a Redwing and works part time at Avery Eye Care in St. Johns.
After High School, Jayci would like to attend Lansing Community College and possibly transfer to Michigan State University to study Exercise Science or Teaching/Coaching. She also has an opportunity to continue to train in Nebraska with the coach of her mixed doubles partner. She is hoping to train in Nebraska when she can while going to school and working part time.
St. Johns Public Schools is proud of Redwing Senior Jayci Simon and we are excited to follow her Para Badminton Career!
#SJRedwingPride
#RedwingstoWatch
#TeamUSA